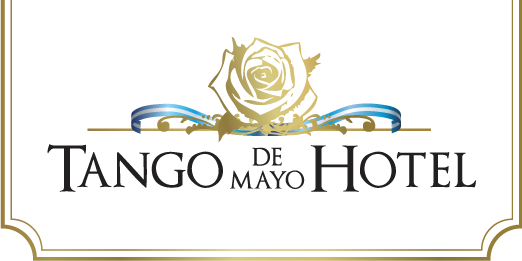 Un Hotel único en el corazón de Buenos Aires
A unique Hotel in the Heart of Buenos Aires
Un Hotel único no coração de Buenos Aires

↓

Ubicación
Location
Localização
Tango de Mayo es un hotel boutique emplazado en el barrio de Monserrat, corazón del casco histórico de Buenos Aires. Ubicado sobre la Avenida de Mayo, vía que conecta la casa Rosada con el Congreso de la Nación, próximo al Palacio Barolo. Ideal para llegar fácilmente a pie a todos los puntos de interés turístico tales como el Obelisco, Teatro Colón, Café Tortoni, Calle Florida y la famosa Av. Corrientes.
Located in Montserrat borough, Tango de Mayo is a Boutique Hotel in the heart of Buenos Aires City. Placed on Avenida de Mayo, the Avenue that links the Official Residence of the Government with the Congress, and a few meters away from Palacio Barolo, Tango de Mayo Hotel is close to the main touristic attractions, such as the Obelisco, the Colón Theatre, the Café Tortoni, Florida Street and the very well-known thoroughfare Corrientes.
Tango de Mayo é um Hotel Boutique, situado no bairro de Montserrat, na tradicional Avenida de Mayo, local de privilégio no coração de Buenos Aires: é a via que liga a "casa Rosada" com o Congresso Nacional e se encontra a poucos metros do Palácio Barolo, chegando facilmente a pé a todos os pontos de interesse turístico tais como o Obelisco, Teatro Colón, Café Tortoni, Rua Florida e a famosa Av. Corrientes.
A 15 minutos del Aeropuerto Nacional Jorge Newbery
A 30 minutos del Aeropuerto Internacional Ezeiza
15 minutes away from the Domestic Airport Jorge Newbery
30 minutes away from the International Airport Ministro Pistarini Ezeiza
15' Aeroporto nacional (AEP) Jorge Newbery
30' Aeroporto Internacional (EZE) 30' Ministro Pistarini.
Próximo a estaciones de Autobuses
Líneas 67 (A y B), 70 (A, B y D), 56 (A,C y D), 5 (B), 7 (A y B) y 100 (B).
8 (servicio rápido hacia Aeropuerto Internacional Ezeiza EZE)
Closest Bus Lines
67 (A y B), 70 (A, B y D), 56 (A,C y D), 5 (B), 7 (A y B), 100 (B) and
8 (special service to International Airport EZE).
Ônibus:
67 (Ay B), 70 (A, B y D), 56 (A,C y D), 5 (B), 7(A y B), 100 (B),
8 (serviço rápido para o Aeroporto Internacional EZE)
20 mts. del Subte A (Estación Saenz Peña)
20 mts. Away from Subway Line A (Station Saenz Peña)
Metrô: A 20 mts. da Estação Sáenz Peña, metrô Linha A, conetando diretamente com todos os pontos de Interesse.